Meet the Team
Elaine Kerin M.I.S.C.P.
Elaine graduated in 2004 from the Royal College of Surgeons in Ireland with an Honours Degree in Physiotherapy.
She attained a degree in Sports and Exercise science from the University of Limerick. Elaine gained her experience working for three years at Naas General Hospital and later with a private practice.
Elaine opened her own practice in 2009.
She was the physiotherapist for the Wicklow GAA team in 2006. As a sports physiotherapist and an active player of field sports, she has a particular interest in pre-season screening and rehabilitation for return to competition.
Elaine's specialist interests are in myofascial pain, deep dry needling and she has post graduate training in women's health.
Avril Kerin M.I.S.C.P.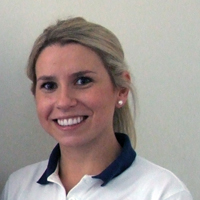 Avril is the sister of Elaine and graduated from Northumbria University, Newcastle in 2008 with a Bsc. (Hons) Physiotherapy degree. Avril Spent 3 years working in the NHS and then moved to a Private Practice based in Leeds for 2½ years. Avril has has been working with Elaine since the start of 2014.
She has a keen interest in pregnancy related injuries and is a 'Fit back and Bumps' Instructor which is a core exercise program, specifically devised for pre- and post-natal women. Furthermore, Avril has keen interest in running and endurance related injuries in addition to sports rehabilitation. Avril has continued her professional development by completing courses in trigger point dry needling, insole/orthotic prescription and injury prevention in runners.
Avril works Monday-Friday. She is also available for home visits to assist anyone who may have difficulty attending the clinic due to their injury or pain.
Her interests include; distance running, gym work, swimming and pilates.
Angela Keneally
Angela graduated with a BSc (honours) in physiotherapy from Trinity College Dublin in 2008. On graduating, she entered the Irish public health service, and gained 2 years hospital based experience. Having worked in Ennis General hospital, Naas General Hospital, The Beacon Hospital and St.Vincents University Hospital, Angela rotated through respiratory care including ICU, CCU and outpatient based pulmonary and cardiac rehabilitation. She worked in trauma and elective orthopedics at both ward and outpatient level, and worked in neurological rehab including stroke, Parkinson's disease, multiple sclerosis, MND and spinal cord injuries.
She then spent 5 years, Angela was based in a musculoskeletal outpatient primary care clinic, linked with GP practices in Dublin West, treating all injuries both acute and chronic.
Angela has been working in private practice for the last 3 years – working with occupational injuries, postural issues and sports injuries.
She was the physiotherapist for the Celbridge senior hurling panel from 2012 to 2014 as well as the team physiotherapist for the All Ireland winning U21 Kildare hurlers for 2013, 2014, and has been involved with the FAI as physiotherapist to the Irish underage soccer development squad.
Post graduation qualifications include Stott Pilates training, biomechanical assessment and prescription, medical acupuncture and dry needling and advanced musculoskeletal courses on lumbar spine, SIJ, hip and shoulder complex.
Angela has a keen interest in sport. She has a 1st Dan black belt in Shotokan karate, has played hockey, soccer, Gaelic and rugby for the past 20 years. She now enjoys strength training and running.